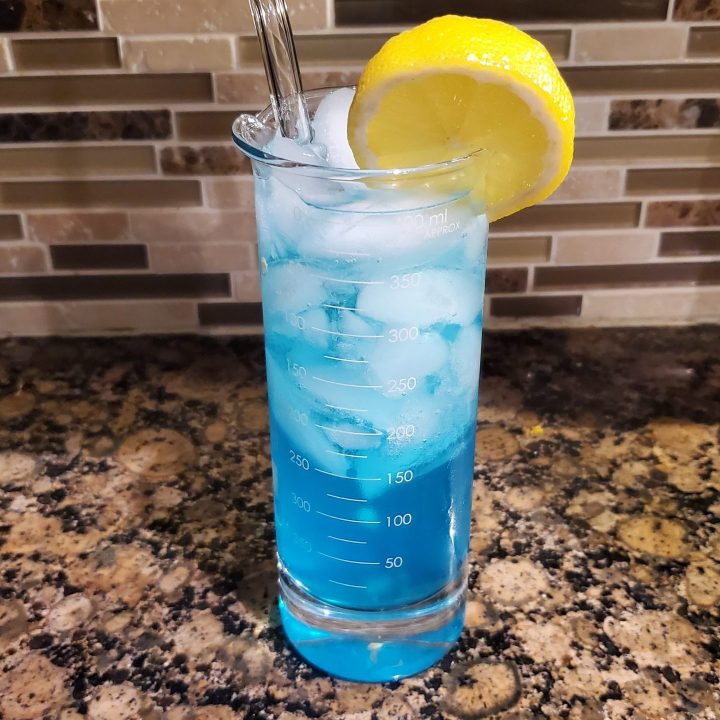 Electric Lemonade #3
Run your own lemonade stand with the Electric Lemonade #3 recipe! 3 times the electricity! Squeeze the day!
Ingredients
1 1/4 oz Vodka
1/2 oz Blue Curacao
2 oz Sweet and sour
A splash of 7-Up
Ice
1 Lemon slice
Shaker
Hurricane glass
Instructions
Fill shaker with ice.
Add liquor and Sweet and Sour to shaker.
Shake.
Pour contents of shaker into Hurricane glass.
Top up glass with 7-Up.
Garnish with lemon slice.
Notes
This drink is shockingly decent. The ingredients are simple, the color is appealing, and the taste is OK. We give this #3 a 4/5 🙂

A lemon battery is a simple battery often made for the purpose of education. Typically, a piece of zinc metal (such as a galvanized nail) and a piece of copper (such as a penny) are inserted into a lemon and connected by wires. Power generated by reaction of the metals is used to power a small device such as a light emitting diode (LED). The lemon battery is similar to the first electrical battery invented in 1800 by Alessandro Volta, who used brine (salt water) instead of lemon juice. The lemon battery illustrates the type of chemical reaction (oxidation-reduction) that occurs in batteries.
Nutrition Information:
Yield:

1
Serving Size:

1
Amount Per Serving:
Calories:

300
Total Fat:

0g
Saturated Fat:

0g
Trans Fat:

0g
Unsaturated Fat:

0g
Cholesterol:

0mg
Sodium:

214mg
Carbohydrates:

24g
Fiber:

0g
Sugar:

12g
Protein:

0g
Data is completely fabricated