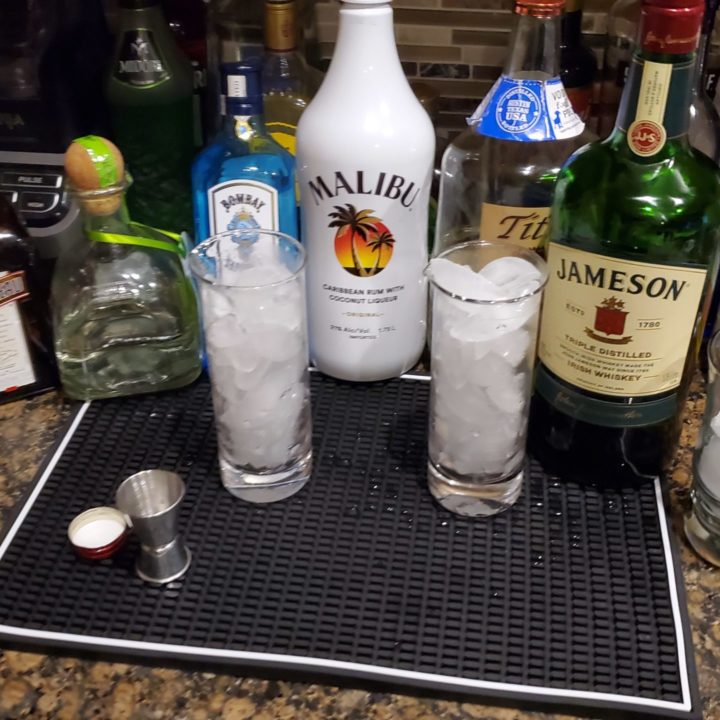 Long Island Iced Tea, Experiment #400
Long Island's are incredibly powerful. They appear to the uninitiated similar to a Sweet Tea - but that's where the similarities end. This LIIT will KNOCK YOU OUT.
We would advise to drink responsibly, but if you break out this drink, it will be impossible. Prepare all hangover cures now.
Ingredients
1 part Vodka
1 part White Rum
1 part Gin
1 part Tequila
1 part Triple Sec (or any orange liqueur)
1 part simple syrup
1 part lime juice
Top with Cola (more will even out cheap/bitter alcohols)
Garnish with Lemon Slice
Ice Cubes
Instructions
Combine all non-carbonated liquids into the small end of your Boston Shaker.
Add ice to Large end of Boston Shaker, pour mixture, and agitate excessively (like your SO).
Strain out the ugly ice, and pour over fresh, pretty ice in a clean Collins or Hurricane glass. We used fancy beakers!
*** Fill glass to the top with ice. If you find the drink doesnt fill the glass, you likely diddnt add enough ice!
Top with Cola and add a Lime or Lemon (OR BOTH!) Wheel as garnish.

Notes
We substituted simple/lime instead of sour mix, but you can use 2 parts of Sour Mix instead if you prefer. We are preferential to the taste of fresh squeezed limes.
Recommended Products
Nutrition Information:
Yield:

2
Amount Per Serving:
Calories:

275
Sodium:

4mg