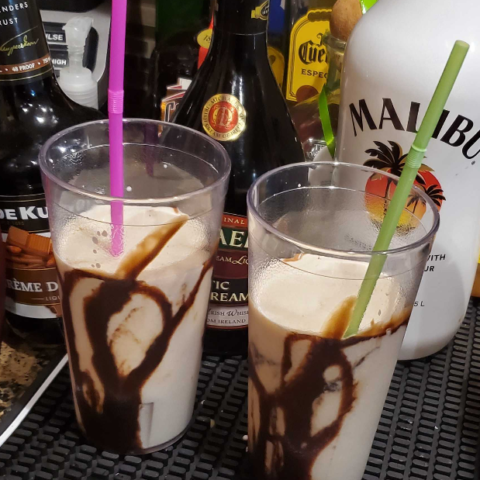 Monkey La-La #202
Additional Time:
1 minute
Monkey La-La is a very decadent frozen cocktail that originates from Roatan. This beverage is named after the Basilisk Jesus Lizards and is a little different depending on the bar you visit. We prefer our recipe which is less sweet (due to less cream of coconut) but retains all of the delicious flavor.
Ingredients
Blender pre-loaded with a ton of ugly ice
2 parts Irish Cream
2 parts Kahlua or Coffee Liquor
1 part Vodka
1.5 parts Coconut Rum
0.5 parts Cream de Chocolate Liquor
3 parts Heavy Cream/Half and Half
A dash of sugar or agave to level out the bitter ingredients
Chocolate Syrup (Garnish)
Instructions
Fill up blender with crushed/ugly ice.
Add all ingredients except for the garnish into the blending apparatus.
Blend until you reach your desired consistancy. We generally set the blender to High and then use the blending time to splash our choccy syrup all over the inside of our glass (huzzah for dishwashers).
Pour your drink directly into your pre-garnished cups. Add a straw and enjoy!
Post "brain freeze" warning label on cup.
Notes
Dangerously delicious; you can scale up the rum with little consequence. Drink responsibly.
Nutrition Information:
Serving Size:

1
Amount Per Serving:
Calories:

550